Appearance:
Cavities in HMT solder joints which often reach the surface and look crater-like.
div. components
Description:
(Organic) Contamination and humidity often cause gas-filled pockets during soldering which then explosion-like penetrate the surface and produce craters. Depending on the quality of the PCB and the cleaning agents used this phenomenon is more or less frequent. The main responsibility is to be found with the boards used. But organic contamination of components also plays a role. Rework necessary.
Causes/Remedy:

humidity in base material
organic contamination of base material and components
components too old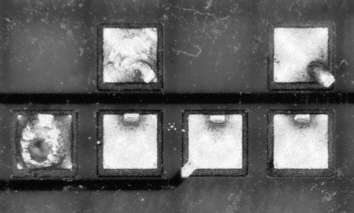 Blowhole in a plated through-hole
Description:
Blowhole in a solder-filled through-hole. The defect is very clearly visible. In this case rework is not necessary.
Causes/Remedy:

humidity in base material
organic contamination of base material and components