Description:
This impressive example shows an inclusion of foreign particles in a solder joint of a CMC after wave soldering. Pollution in the solder pot of the wave soldering unit is likely to have caused it. The solder joint shows immaculate wetting of the component and board, but the cross section of the joint is weakened. Rework is necessary.
Causes/Remedy:

Pollution in the soldering unit
Contamination of assembly before soldering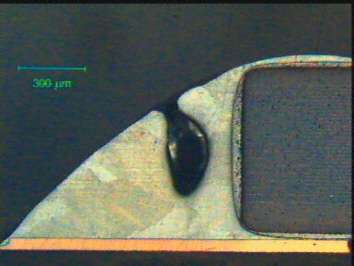 Description:
The above example as a general view from the outside. The inclusion is larger inside than visible from ouside.
Causes/Remedy:

Pollution in the soldering unit
Contamination of assembly before soldering